Slip F 18 location before Marina re-construction.  It was here where the original slip dedication took place.
When the U.S. organization Friends of Libraries U.S.A. decided to institute a series of literary landmark plaques analogous to historic landmark markers, the first to be installed was around what would be Slip F-18 in Bahia Mar, the anchorage of the Busted Flush. This was done in February 1987, less than a year after MacDonald's death.
After the remodeling of the Bahia Mar Yachting Center in 2003 to replace fixed docks with floating docks, there no longer existed a Slip F-18. The plaque was remounted on a movable wooden base, which is presently located inside the marina Dockmaster's Office and Gift Shop.[10]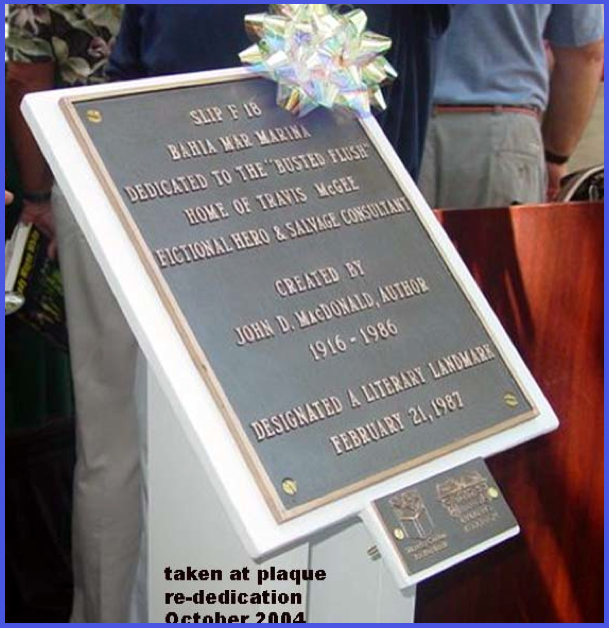 Photo taken at the original dedication in 1987.
THE BUSTED FLUSH
  A  picture of the Bahia Mar Resort where, in Slip F18, the Busted Flush was moored. X marks where the plaque is located in the Harbormaster's Office area.  The red "O" at mid- left is approximately where the  Busted Flush was moored.   F 18 is no longer there once the Marina was re-constructed several years ago.  The solid red line near the top is the main road in front of the Bahia Mar Hotel, the large building.
This current picture of Bahia Mar at night has a red circle approximately where the Busted Flush  would have been moored in the original configuration.
Below is a rendering of the boat, which MacDonald felt was very close to what he had in mind, but, as he always said about the boat and Travis McGee, he did not want to be exact about either.  Let the reader fill in the 
gaps.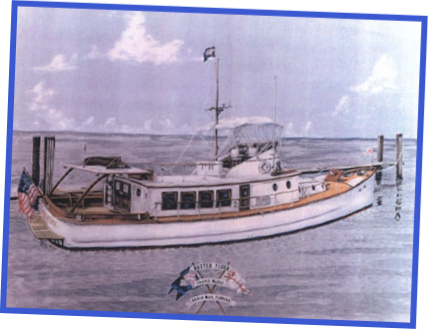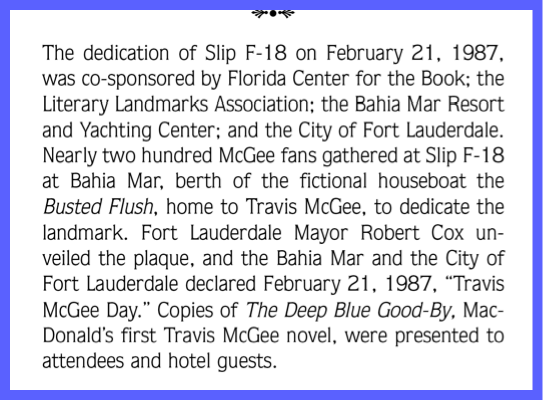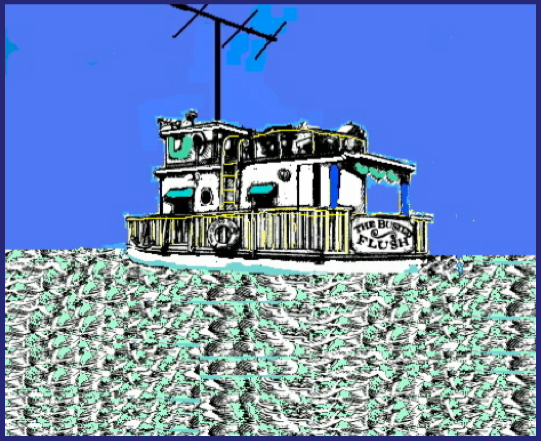 Which is why my idea (see above) is quite different than the one at the top of the page,
 or that which appeared  on the Bib covers, which had been drawn by a USF student
 who probably did not understand what a houseboat looked like.
(Note: that's a ham radio antenna on top of my version.)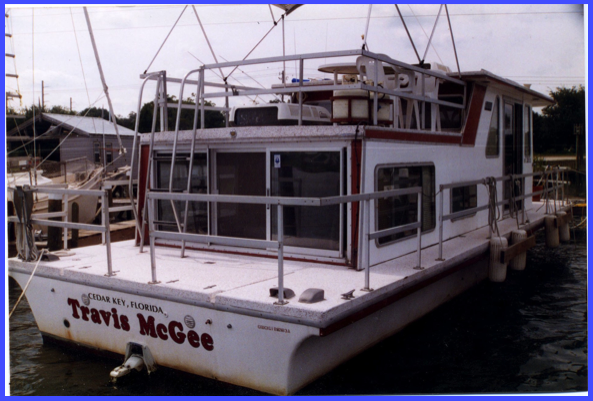 In looking through your JDM website, I did find this photo of my old boat, Travis McGee.  The photo was actually taken in St. Augustine.  I chose Cedar Key as a hailing port from the Buffett song line "Travis McGee is in Cedar Key, says John D. MacDonald." 
Glen Moore
St. Augustine
**********
Plaque re-dedication 
While meeting to plan for the Re-dedication we posed for this photo .  I can't remember the first person on the left--he was public relations as I recall, Tara Zimmerman from the Florida Center For the Book, Cal Branche, and Kevin Quirk representing the Bahia Mar Hotel and Marina
******************
 From The Islander:  Date of Issue: March 30, 2005
Sandscript (reporter's name unknown)
Pilgrimage tales of Travis McGee, 'Busted Flush,' Bahia Mar
Oct. 2 , 2004 was John D. MacDonald Day in Fort Lauderdale, and about 300 of his more avid fans were on hand to pay tribute to the late, great novelist.
MacDonald died in 1986 after writing 78 books and countless short stories. He is still regarded as the father of Florida mystery authors which came about years ago in a time when the Sunshine State was a far cry from a literary focus. There are more than 40 mystery authors with ties to Florida today.
Saturday's celebration was spurred by the rededication of a plaque at the Radisson Bahia Mar Beach Resort, fictional home of MacDonald's most enduring fictional character, Travis McGee, who fictionally lived on his houseboat "The Busted Flush" and engaged in "salvage" pursuits.
The plaque honors MacDonald's work and McGee's fictional home at the marina, slip F-18. In February 1987, a slip in the marina at Bahia Mar was named the first Florida Literary Landmark by
This year's event did not have an auspicious beginning. A pair of elderly women were waiting to register when one asked her friend if she thought Mr. MacDonald would be at the event.
"Dear, Mr. MacDonald is dead," she said.
"Oh, I hadn't heard that," was the reply.
Of course, as long as there are books, John D. MacDonald will never really die. In fact, his creativity has surpassed the written word and has entered into the realm of - gasp! - television.
Paul Levine, author of a series of Miami-based private detective novels, pointed out that the boat-bum McGee character had been captured by television through Jim Rockford in "The Rockford Files" and Thomas Magnum in "Magnum, P.I."
"Rockford was Travis, except he lived in a trailer next to the beach in California," Levine said. "Magnum was Travis, except in Hawaii. He even shared Travis's initials - T.M.
"We all steal from John D.," Levine added with reluctant nods from the other authors present."
Jim Born, a Florida Department of Law Enforcement officer and mystery novelist, described MacDonald's influence bluntly. "If it weren't for John D., I wouldn't be here."
His father gave him a copy of a Travis McGee book, "A Tan and Sandy Silence," as a child in 1974. "Through that book I developed a  love of reading and, eventually, writing, and decided to create a book myself." His first novel, "Walking Money," has been published to critical acclaim.
Randy Wayne White, who himself has been described as the contemporary MacDonald by many critics, told a story of his first meeting with the Siesta Key author in the mid-1970s.
White and three buddies were sitting at his house on Pine Island one weekday morning, talking about books, when someone brought  up the name MacDonald. White said he hadn't read any of John D.'s books, and the others started telling stories of the famous author's stories.
"You know, he just lives up the coast," someone suggested. "Let's take a boat and go see him."
"You have to remember that beer was involved," White told the audience with a laugh.
The crew headed north and, shortly after the last of the beer was gone, arrived at Siesta Key only to find that no one had a clue  where MacDonald lived. They pulled up to a little beach at the north end of the key and asked a fisherman on the shore if he happened to know where a guy named John D. MacDonald lived.
"Right there," the fisher said, pointing back to a big house with wide porches that was right where they'd pulled their boat ashore.
With that fateful event under their belts, the motley bunch started to trudge up to the door. White said a head popped out of a window, then ducked back in as they climbed the steps to the house. John D. himself invited the scruffy crew in, gave them more beer and chatted for hours.
"He couldn't have been nicer," White said.
Jonathan King also said John D. influenced his writing career. Living in Philadelphia, he read of the sun, sand and surf, the beautiful blondes and the joys of South Florida and, when he was offered a job with the Sun-Sentinel in Fort Lauderdale, jumped at the chance. That was 20 years ago, and he hasn't left - although he did leave the Sun-Sentinel last July.
He and Michael Connolly were at an author event at Bahia Mar several years ago, King said, and during a break in the proceedings they strolled down to where the original plaque was installed at the marina.
"We read the plaque," King remembered, "and then we both put our hands on it and said, 'Thank you, John.'"
I can only echo that sentiment: Thank you, Mr. MacDonald.
********************************************************************************************************
More than 200 fans attended the RE-DEDICATION in 2005
The event was sponsored by the Florida Center For The Book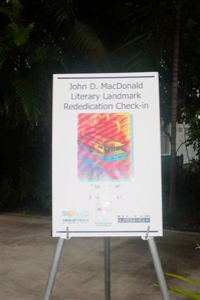 Poster for the event
The crowd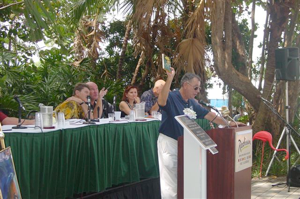 Cal Branche
Toast to JDM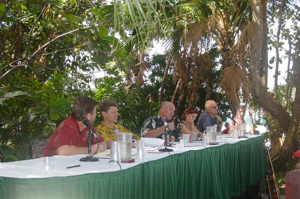 to R: Jim Born, Paul Levine, Randy Wayne White, P.J. Parrish, and Jon King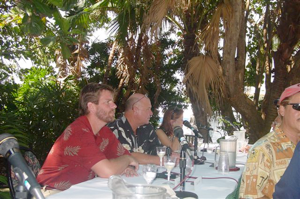 Randy Wayne White, center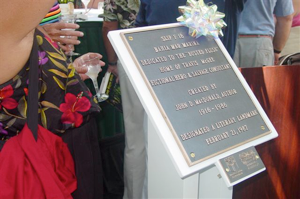 THE PLAQUE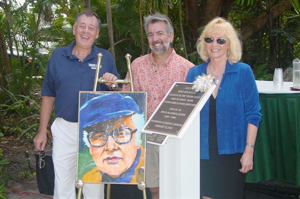 From left, Cal, Mario Fig, and Karen Turville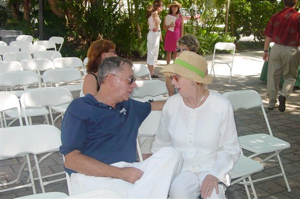 Cal with Jean Trebbi, who guided the Landmark effort in 1987