Doubleday: 1965
The funny, touching, entertaining true story of two cats and their adventures with the MacDonald family.
On the back  cover there is a pictue of JDM, lying stretched out on the couch, reading, with one of the cats nestled up against his feet.
*****************************************************************************************************
From the current owner of the house recalling what occurred when the addition was put on the house.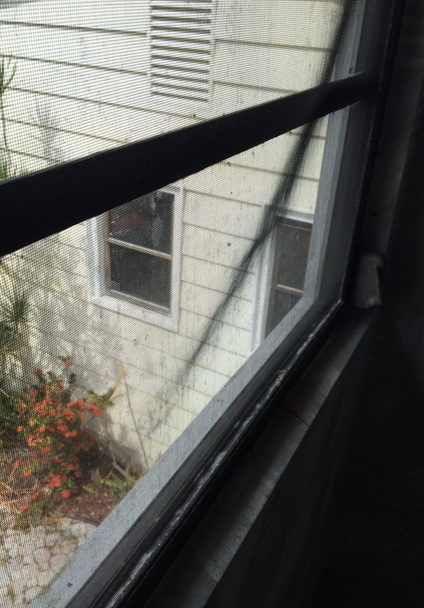 When they made the addition to the main house, they removed the garage, put in a double carport, and built his work area on top of the carport as the only second-story portion of the house. The sliding glass windows above his desk area opened onto a shallow screened porch. From the farthest corner of this screened porch, one could look down at an acute angle directly into the window over the kitchen sink. 
It was his cat Roger's habit to come up the stairs about once every two or three days to explore his cupboards. John M had dozens of them in his work area, at floor level (p. 135). 
"One day he wanted to go out on the screen porch. He'd been out there before. On the day in question I let him out. As it was a warm day Dorothy had the kitchen window open, and she happened to be at the sink. When movement caught her eye, she called up to him. I watched him. He stopped and stared down at her, six feet away. He tilted his head and stared at her. She continued to talk to him. Abruptly and purposefully he turned around and came back into my office, walked diagonally across to the stairs, went down the stairs to Dorothy's studio, walked back through the service area to the kitchen door and stood there and stared at her. Nothing unusual here.
 However, that cat with the two of us observing him, repeated that trick seven times, without side trips, interruptions, or any lagging of attention and curiosity. Obviously the spatial relationship baffled him. Down there was a familiar food corner, the accustomed voice and greeting. They could not be a duplication. Yet how could he come so far yet remain so close? Seven times he stood on the porch and stared down at her. Seven times he went to the kitchen doorway and checked. It was not a game of hide and seek. He was doing no prancing. He was involved in solemn thought. 
At last he seem satisfied, and when I next spotted him, about 15 minutes later, he was sitting out in the sun in the driveway, either by accident or intent, in the precise place we could most readily see both the upstairs porch corner and the downstairs kitchen window (p. 136)." 

Fawcett:  1963
        MacDonald's story of Judy Garland....he was not really pleased with  the end result.
*************************************************************************************************
This book of letters reflects the rise and fall of Rowan and Martin's "Laugh In."  It's a  picture of a successful novelist and of a comedian dealing with success, and it is a  portrait of how a friendship may live and die.  At the suggestion of a mutual friend, Rowan and MacDonald began writing without having met. Their letters are frequent initially, and each writer assumes a role: MacDonald/advisor and Rowan/seeker of such. There is an abrupt break-off in 1974 as Rowan's marriage disintegrates. 
*****************************************************************************************
Reading For Survival is the last published work of John D. MacDonald.  It was the fruition of a project first proposed by Jean Trebbi in 1985.  Jean was the Executive Director of the Florida Center For The Book, and persuaded JDM to write an essay as Florida's contribution to the "Literary Heritage of the States," a program of  the Library of Congress Center For The Book.
In the foreword to Reading For Survival  Trebbi notes that JDM had a difficult time with the project, and he expressed second thoughts about the whole matter, and he noted that he written many pages, none of which were acceptable to him.
 JDM finally wrote Trebbi  that one way to make his words " fall usefully upon deaf ears is to use such colorful language that it will be quoted, sooner of later, to a great many non-readers." 
Trebbi suggested that he use a conversation beetween Meyer and McGee as a device, and JDM replied: 
               "Why indeed...I am very sorry for taking so damn long."
It has been thirty years since JDM died, but the final essay will indeed be read --and re-read --for its comments on many of the issues of that day, which continue to haunt us today.
If you want a copy for $15.00  please contact Tara Zimmerman  at: Zimmermann, Tara <TZIMMERM@broward.org>

.    Fawcett 1968
The best-selling author of the Travis McGee novels tells the riveting true story of the notorious Coppolino murder trial.
Note:  JDM paid tribute to John Pete Zenk who had suggested he write about the trial, and who worked  with JDM "all the way" as JDM noted.
In 1996,  as a guest at our 6th John D. MacDonald Conference,  in Sarasota, Florida, we heard a  very touching story by John Pete Zenk.  The setting was MacDonald's home, now owned by a private party, who invited all conferees to have a barbecue lunch on the verandah.  
Mr. Zenk told us that in 1985, while he was undergoing a very difficult time, both personally and medically, and a check for a sizable sum of money appeared out of nowhere--the explanation was that it was for some"royalties" long overdue from further sales of the book.  
There was not a dry  eye in the house when Zenk told us that it was not until after JDM's death that he found out that the money was simply given by JDM to Zenk under the "guise" of a royalty payment.
1981
1981