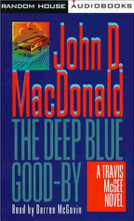 The Deep Blue Goodbye* (Fawcett Gold Medal , April 1964)
Covering a period of time between July 24,  and November, 1962.
(Originally named Dallas McGee, the name of MacDonald's hero was changed after President Kennedy's assassination. In the first of the McGee novels we are introduced to this 6"4" hero, whose business card reads:  Travis McGee: Salvage Consultant .  McGee undertakes to recover for its rightful owner money or property of which the owner has been wrongfully deprived and has no other hope of recovering, taking half its value as his fee.
McGee is a bachelor, a man who can be friends with the ladies as well as have a  passion for them. 
He is a principled  man, although they are somewhat at the mercy of his uncertain emotional condition and his circumstances at the moment; In McGee's own words, "Some of them I'll bend way, way, over, but not break."
His place of residence, is the Busted Flush (a houseboat he won in a poker game), at  slip F-18 at the Bahia Mar Marina in Fort Lauderdale, Florida.
In Deep Blue  McGee  helps Cathy Kerr, who had come under the influence of Junior Allen, one of the most evil antagonists ever penned by an author, to recover a legacy from her father. 
That legacy had been stolen by  Junior Allen , who is "cat quick", powerful, and pathologically evil.
The confrontation between the two bringsTravis face -to-face with a danger even his physical attributes may not  be able to match. 
     Nightmare in Pink* (Fawcett Gold Medal, April 1964)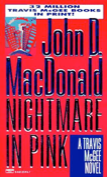 1964-- October-April 1964 
This 2nd of the Travis McGee series is place in New York City where Travis goes to help out the sister of a friend. Her fiancee has been murdered, and the 10,000 he left behind raises questions as to its origin.  The private mental hospital in which Travis finds himself under the influence of psychedelic drugs is the scene of some of MacDonald's best prose regarding the drug culure.
     A Purple Place for Dying* (Fawcett Gold Medal, May 1964)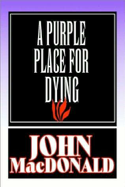 1964
Purple Place for Dying is the third book in John MacDonald's Travis McGee series, and McGee comes upon his most troubling experience yet. McGee is brought to the Midwest by Mona Yeoman, who  suspects that her husband has pilfered her trust fund, and she wants a divorce.
 McGee's job is to find out what happened to the money.  Mona is murdered right in front of his eyes, but  her body disappears when the police are called. Travis now has to find out everything about the murder and the mystery. As usual, McGee finds himself in danger the closer he comes to the truth.
     The Quick Red Fox* (Fawcett Gold Medal, September 1964)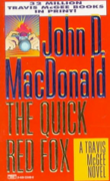 A Deadly Shade of Gold* (Fawcett Gold Medal, January 1965)
1965--February to March
 Travis is involved in helping a famed Hollywood star who is being blackmailed. He looks at the photographs the blackmailer has sent him :
    "Suddenly I knew what she reminded me of. A vixen. A quick red fox. I had seen one in heat long ago on an Adirondack morning in spring, pacing along well in front of the dog fox with a very alert and springy movement, tail curled high, turning to see if he still followed, tongue lolling from betweenher doggy grin." This is  McGee's first impression of red-haired sex symbol Lysa Dean. 
 McGee follows a trail of broken relationships and torn-apart lives while working for Lysa Dean, and the journey is typical of MacDonald's insight into modern life.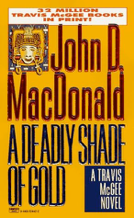 1965
 A bloody chase novel taking McGee from Florida to Mexico to LA. MacDonald has a wondrous sense of place and you can feel the sensuous breezes and see the spectacular sunsets.  In A Deadly Shade of Gold, McGee comes into possession of an evil-looking, solid gold Aztec icon that leads to a perilous fortune.
\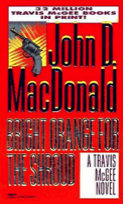 Bright Orange for the Shroud* (Fawcett Gold Medal, August 1965)
1965
  Bright Orange for the Shroud tells of a dangerous confidence scheme that traps one of McGee's friends. Soon, McGee infiltrates the group and takes on its sexy operative, with explosive results. 
      Darker than Amber* (Fawcett Gold Medal, May 1966)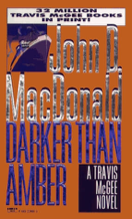 1966
McGee and his economist friend, Meyer, are  are fishing while tied up to a bridge, minding their own business, when a woman is thrown off the bridge and sinks  like a stone. in front of them. McGee dives overboard and is able to rescue the woman-despite the fact that herfeet are wired to a cement block. The woman, Vangie, turns out to be a high-priced prostitute who was involved in a scam gone bad.  
McGee and Meyer are finally able to get the gist of Vangie's story, and decide to help.  
This is the first novel where the character of Meyer, briefly on stage in earlier books, is finally fleshed-out as a character.  JDM said once that Meyer was probably closer to himself--not the character of Travis.
     One Fearful Yellow Eye* (Fawcett Gold Medal d1848, December 1966)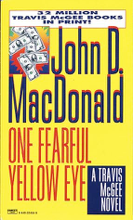 1966
       In "One Fearful Yellow Eye" John D. MacDonald presents his hero, Travis McGee ,
in perhaps his most frightening, suspenseful episodes yet. McGee, that "knight in
tarnished armor," loves helping his friends out of their troubles, especially bikini-clad
females in trouble.  Longtime friend Glory Doyle has come to McGee for help
again. It seems that someone has  "taken" over a half-million dollars from her
husband's account over the last year of his life.. McGee  suspects blackmail, but can't
seem to figure out why. 
       Pale Gray for Guilt* (Fawcett Gold Medal, January 1968)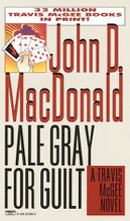 1967
  Tush Bannon, is dead, murdered by some ruthless individuals who could care less that he had a wife and three children.  It wasn't \anythng he knew or anything he had done.  He was just there.
..and  they got him, crushed him to hamburger, and walked away counting their change.  
 But one thing they never could have figured.
Tush Bannlon was Travis McGee's friend.
 *             
The Girl In The Plain Brown Wrapper* (Fawcett Gold Medal, December 1968)
       Dress Her in Indigo* (Fawcett Gold Medal, August 1969)
       The Long Lavender Look* (Fawcett Gold Medal, September 1970)
       A Tan and Sandy Silence* (Fawcett Gold Medal, January 1972)
      The Scarlet Ruse* (Fawcett Gold Medal, June 1973)
      The Turquoise Lament* (Lippincott, November 1973)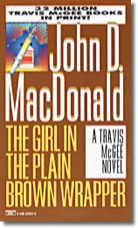 1968
McGee delves into the mystery of a rich and beautiful wanton who happens to be losing her mind, a little piece at a time.  As he probes, he uncovers some of the strange corruptions that simmer behind the respectable facade  of a quiet Florida town.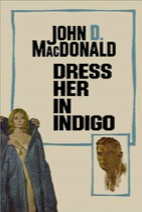 1969
The wench is dead--but Travis McGee was backtracking her wild, sad trail through the bizarre world of the hippies and drug freaks who had found haven in Mexico.
McGee would need all his cool, all his insight, to live up to the estimate of the rich and beautiful  woman who perhaps held the key to the puzzle.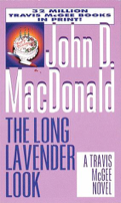 1970
A lovely young woman steps in front of Travis McGee's headlights. McGee misses the girl but lands in ten feet of swamp water.  As he's limping along the deserted road, someone in an old truck takes a few shots at him. And, when he goes to the local sheriff to complain ,the intrepid Travis mcGee finds himself arrested and charged with murder.
Is this what they call Southern hospitality?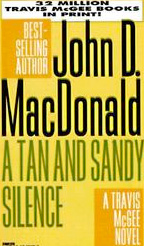 1971
Travis McGee is having the time of his life--he's doing nothing but enjoying   
life on board the "Busted Flush," entertaining all his friends in his best carefree manner!
That is, until long-ago acquaintance Harry Broil comes abroad, gun in hand, threatening
McGee within an inch of is life, accusing Travis of making off with his wife, Mary. 
Mary was an old friend, one whom Travis prizes dearly. Now he has to find her. As
it wasn't likely for Mary to just run away, McGee knows that there is something seriously
wrong,.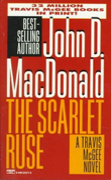 1972
McGee was busy with his beloved houseboat, The" Busted Flush. " Too busy to pay attention to the little old man with the missing postage stamps.  Except they were not ordinary stamps.  No indeed.  
They were rare stamps.
Four hundred thousand dollars worth.
Even so, McGee was not all that interested in them until a generously- endowed amazon named Mary  Alice McDermit made her grand entrance....She knew a helluva lot about rare stanmps , and  the ways to to a boat bum's vulnerable heart.  
But it wasn't McGee's heart  that was in danger...A syndicate killer had put a contract out on McGee.
A killer who knew something about stamps, and veen more abou  McGee.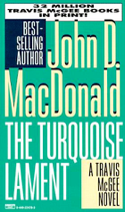 1973
Take that young woman, McGee, and file her under TTF...try to forget.
But McGee couldn't forget.  Pidge was special.  First time McGee saw her she was in pig-tails andglassy-eyed in love for him.  Now she was a grown woman and married to an ex-football jock name
 Howie.
When he got the letter from Pidge  McGee grabbed the first jet to Hawaii, and dried her tears.  Howie was trying to kill her, she cried.
McGee began to check on them both.  Suddenly Travis began to appreciate what dangerous game he stalked.
But McGee needed proof, a trap.  And what better bait than himself?
 The Dreadful Lemon Sky* (Lippincott, February 1975)
      The Empty Copper Sea  (Lippencott, September 1978
    The Green Ripper* (Lippincott, September 1979)
    Free Fall in Crimson* (Harper and Row, April 1981)
    Cinnamon Skin* (Harper and Row, 1982)
    The Lonely Silver Rain* (Knopf, 1985)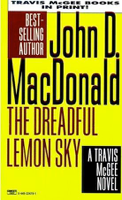 1974
Carrie Milligan, arrives in the middle of the night, while Travis is asleep on his houseboat, The Busted Flush. She is looking older and used and very scared. She has 100,000 with her.  
She wants Travis to keep it safe.   Until she returned.  And no questions please--for old time's sake.
So Travis keeps the money.  But Carrie never came back.  And never would.  She was suddenly very dead.
The papers said it was an accident...And Travis doesn't believe it.  And he was going to find out  who had "arranged" her death.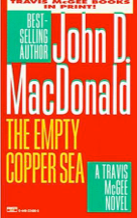 In "Empty Copper Sea," Hub Lawless is reported drowned in a boating accident and his $2 million insurance policy raises some eyebrows, not to mention questions.
Travis's good friend Van Harder is held responsible for the death and much circumstantial --and suspicious--evidence points to his guilt. Thus, Travis becomes fully involved, more out of friendship than anything else. He cannot believe his friend is guilty.
I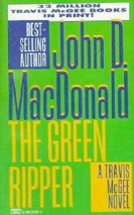 1979
This is a book of vengeance and revenge. Travis has finally found true love, and she is snatched from him by death. At first it appears to be a lethal illness, then horrifyingly, a random sophisticated killing. Travis  is almost mad with a desire to find one man, one face to batter and then to execute. To face the fact that the murder appears to be an organizational hit with no single one-of-a-kind killer seems obscenely unfair. Travis follows some paper-thin leads, discards his identity, and infiltrates a terrorist camp sponsored by a cult.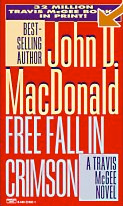 1981
McGee used to say that people who become legends in their own time usually have little time left. 
 Unless you're McGee, who is indestructible.
This time, however, he came close to losing his status as a living legend when he agreed to track down the killers who brutally murdered an ailing millionaire.  
The police reported death by person or person unknown.  
McGee knew better.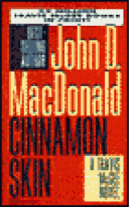 1982
When Travis McGee's friend Meyer lent his boat to his niece, Norma, and her new husband Evan, he never dreamed he was signing their death warrant.
For suddenly, out in the waters of the Florida Keys, the boat was destroyed by an explosion.  
To all appearances  only Norma, Evan, and a crew member were aboard when it happened.
But McGee begins to suspect it's not that simple.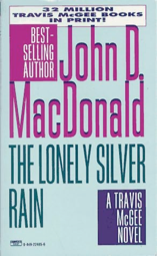 1984
Keeping himself alive is something McGee has always taken for granted--until his search for a wealthy friend's missing yacht places him square in the center of the international cocaine trade. 
 As he follows a scorching white line from Miami's penthouse suites to a tiny village in Mexico's Yucatan Peninsula Travis finds himsself the target of some of the most ruthless villains he's ever met.
Pressed into contemplating for the first time his own mortality and jolted into taking stock of his life he discovers amid all the danger the astonishing  surprise behind the cat-shaped pipe cleaners someone is leaving at this door.