UTICA, N.Y. --WHERE HE LIVED FROM AGE 10 TO LEAVING FOR COLLEGE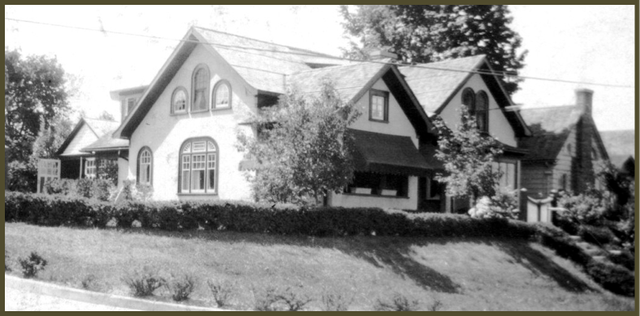 9  Beverly Place
Utica, N.Y.  
(built around 1923)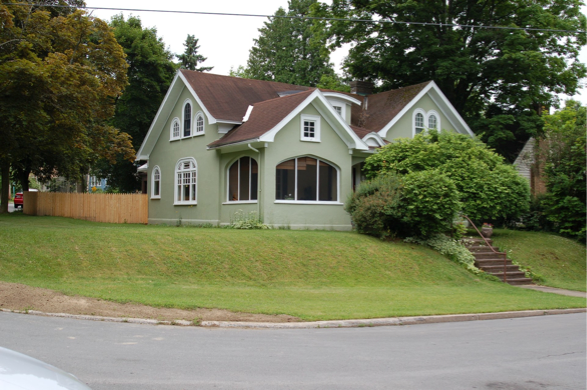 This picture shows the home in June, 2009. It is  remarkably unchanged.    A nice home, and large for its time (built in 1923).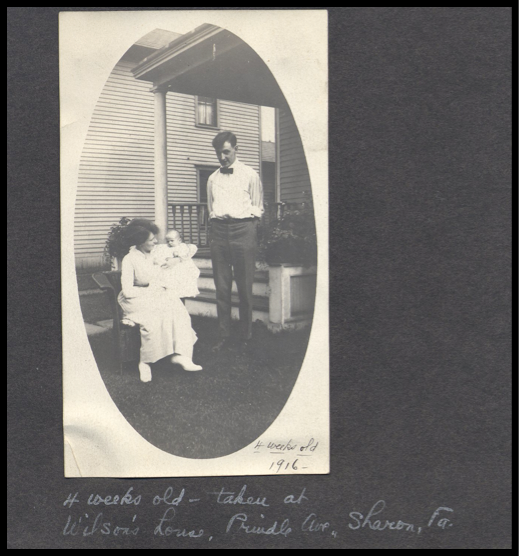 Eugene and Marguerite (Margie) Macdonald, and John Dann MacDonald, aged 4 weeks.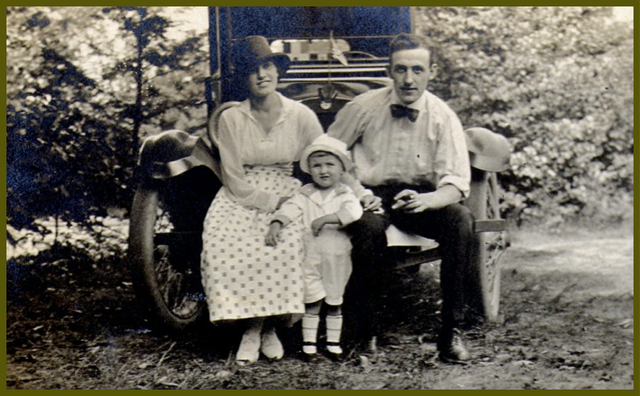 Margie, Eugene, and JDM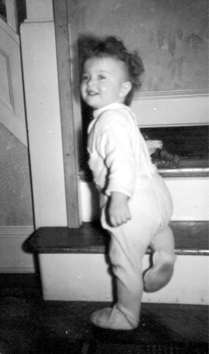 JDM  around  1918-19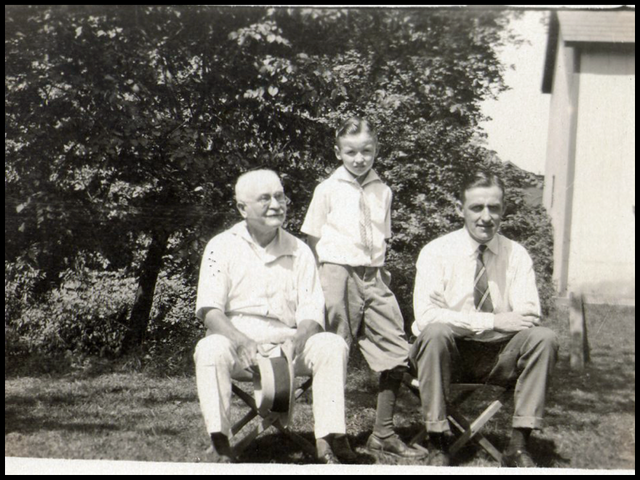 Grandfather  Dann ( on his mother's side) JDM, and father, Eugene.  Dann was a member of Theodore Roosevelt's hunting parties on several occasions.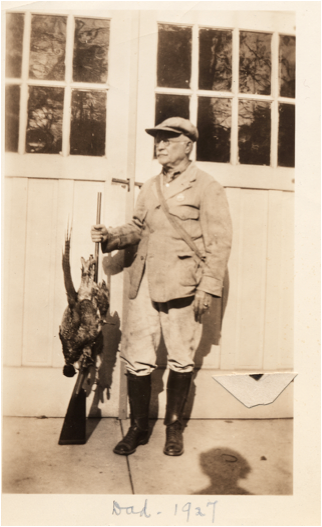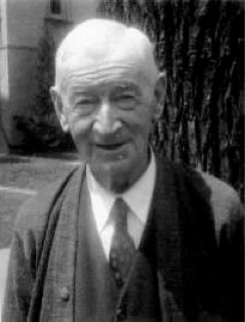 Grandfather Hugh MacDonald                                                                                                             
                                                                                                                      in 1950
*************************************************************************************
"Why detective Travis McGee spent time on Bleecker Street"
By MALIO CARDARELLI
 Utica Observer-Dispatch
Posted Aug 27, 2007 @ 08:06 AM
This column has celebrated a number of artists and musicians, mostly the latter, but never a novelist.
It's not that the Utica area has never had a notable one, nor is it due to lack of esteem for that form of creativity. Instead, it might simply be something overlooked. Nevertheless, it's about time a writer is herein chronicled.
John Dann MacDonald was born July 24, 1916, in Sharon, Pa. His father, Eugene, took a finance position with the local Savage Arms Co., so the family moved to Utica when John was 12 years old. He went to local schools including Utica Free Academy.
The MacDonald family lived at 9 Beverly Place on a small island that separates lower from upper Beverly Place.
After his 1933 graduation from UFA, John furthered his education at the Wharton School of Finance at the University of Pennsylvania, then at Syracuse University, where he earned his bachelor's degree, and finally at Harvard for his MBA. It was while at Syracuse that he married his lifelong partner to be, Dorothy Prentiss.
Subsequently, he went into the military, writing regularly to his wife. Just for a change, instead of a letter, he once sent her a short story, which Dorothy submitted to a magazine for publication. It was accepted for the sum of $25, not too small an amount in the 1940s. When he was discharged in 1946, he worked for a brief time for the Utica Chamber of Commerce with an office on Elizabeth Street near Grace Church.
However, John's love was writing, so the decision to try doing it full time came easy, especially with a cushion of four months' mustering-out pay from his army post. Of that time, John once said:
"During those months, I wrote over a quarter of a million words of finished manuscript all in short story form. I kept from 30 to 40 stories in the mail at all times. I worked 14 hours a day, seven days a week ... one learns by writing," MacDonald noted. "
That indefatigable dedication paid off, as acceptance after acceptance of his submissions were received, causing the young author to believe he was able to make a long-term living from his creations. That he certainly did.
In his lifetime, in addition to many short stories, he authored some 77 novels of drama and mystery, many that became movies such as "The Executioner," filmed as "Cape Fear," and "Condominium," later adapted for television. His most popular work was a mystery-detective series with a private detective, Travis McGee, who appeared in more than 20 of his works. More than 70 million copies of his books were sold.
And it isn't unusual for his characters, including Detective McGee, to roam around the Utica area on their adventures. even having dinner at Grimaldi's on Bleecker Street with his sidekick, Meyer, where they each began with an extra-dry martini and later with Valpolicella wine served with their dinners. The surroundings are described including Chancellor Park, but not by name, west of the restaurant.
This gives testimony to MacDonald's fascination with this region, an appeal made even more evident by his the summer residency at Piseco Lake in the Adirondacks, while his permanent home was in Florida. His Piseco Lake cottage is mentioned frequently, as is Utica, in his book, "A Friendship," a rare nonfiction work that assembled MacDonald's letters to and from Dan Rowan, of TV's "Rowan and Martin's Laugh-In" fame.
Both his mother and his sister continued living here, even after the death of his father, causing him to be in Utica for visits and to purchase items when he stayed at his Piseco Lake cottage.
Utican Keith Caulkins, once a customer relations representative for what then was Business Services Co. in North Utica, remembers going up the MacDonald place several times each summer to assure the author was happy with his copy machine provided by Business Services.
"It was a nice cottage, not elaborate but comfortable, at the end of the lake in a remote area with a gorgeous view of the lake and the surrounding mountains," Caulkins said. "I loved going there because the MacDonalds were down to earth people."
He remembers that he sometimes was invited to lunch with them.
"Mrs. MacDonald was a quiet person, frequently sitting on the cottage porch knitting and dressed as though she was going out, always wearing a nice outfit, complete with jewelry," he said. Caulkins recalled that MacDonald, although in a vacation setting, nevertheless spent much time writing.
John MacDonald died Dec. 28, 1986, at age 70 due to complications associated with heart surgery. He was devoted to our area, and certainly one of the most prolific writers of fiction ever to have called Utica his home.
Malio Cardarelli is a local historian and author. This is the fifth of eight weekly local history columns publishing Mondays in the Local section
***************************************************************************************
The MacDonald's spent their first Florida winter in this Clearwater house:
****************************************************************************************
POINT CRISP, SARASOTA
From April of 1952 to May of 1969  the MacDonald's lived during the winter in this modest home in Sarasota, Florida.  
The current owner invited some of us to visit the home after the 2nd "Conference To Die For"  in 2006.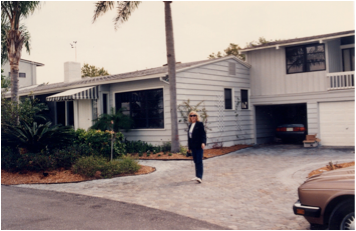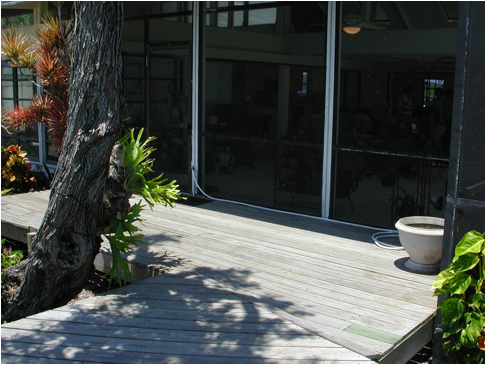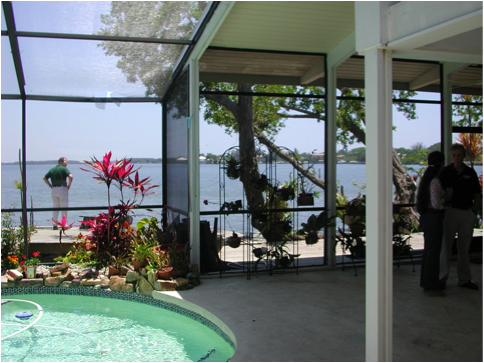 The picture below was on the back cover of The House Guests.  Note the bottom right picture which shows JDM stretched out, reading, with one of the cats at this feet.  The book was written in the Point Crisp home.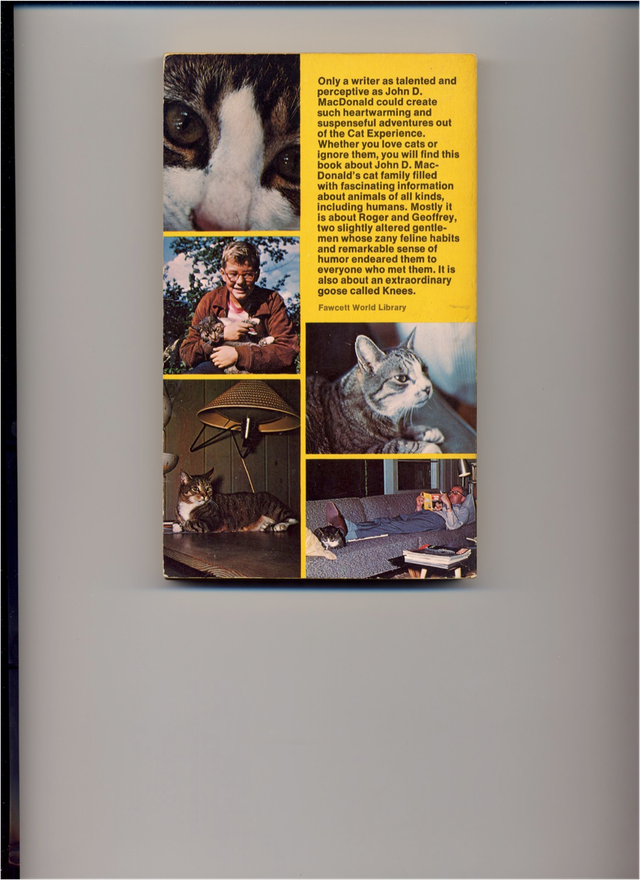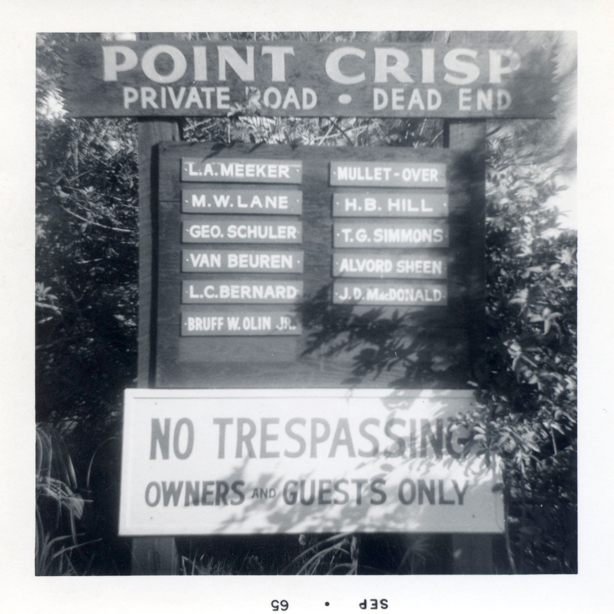 The compelling reason to move, as stated by JDM in early 1966:
"It became impossible for us to keep on living here on Point Crisp.  The road and right of way go right past the front of the house.  People we do not know have an increasing lack of respect for the privacy we need in order to work.  We  found a piece of property about two and a half miles from here on Siesta Key. "
(See  Siesta Key home page for pictures of  the home they lived in until JDM died in 1986.  Dorothy lived there until her death in 1989.)
SIESTA KEY H OME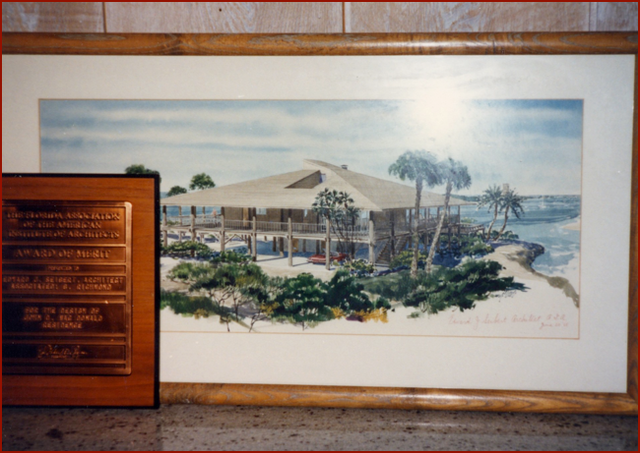 The architectural rendering of the proposed MacDonald home.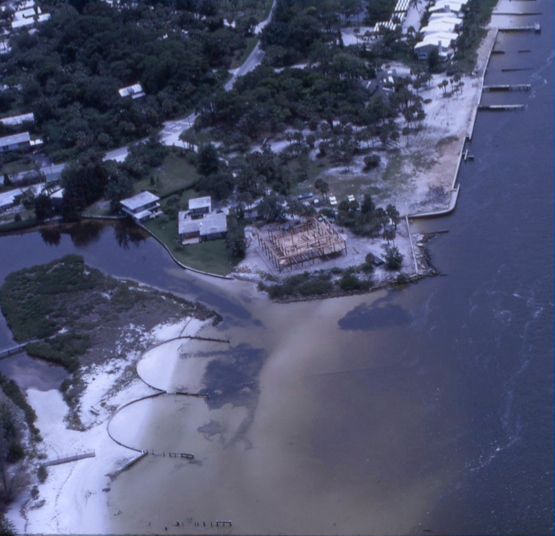 Aerial view showing house under construction.
Views of the construction early on.  Note the pilings: these were embedded 10 feet into the limestone so that the house itself would withstand most, if not all, hurricanes.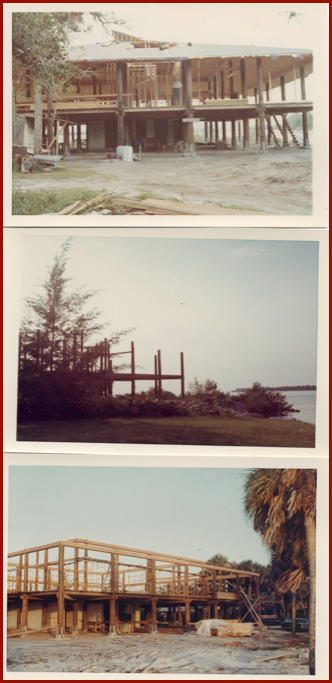 JDM at the nearly- completed home on Siesta Key.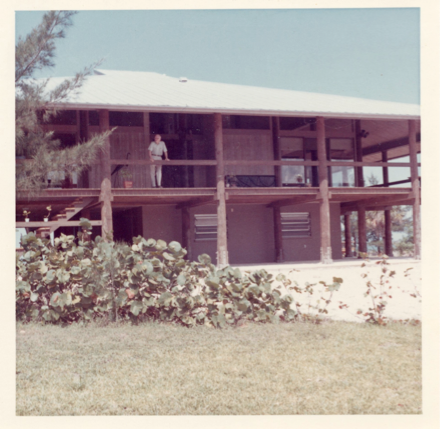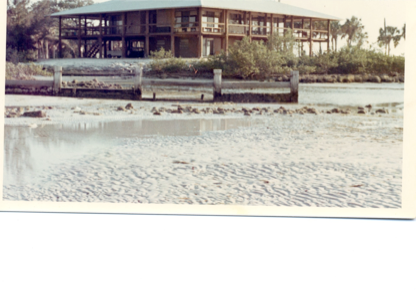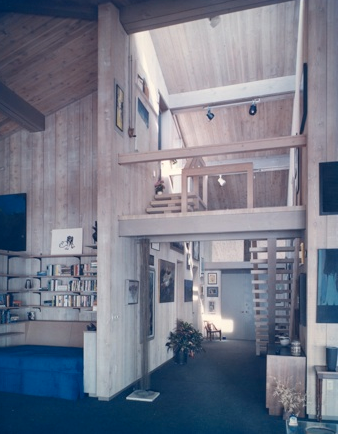 Interior Shot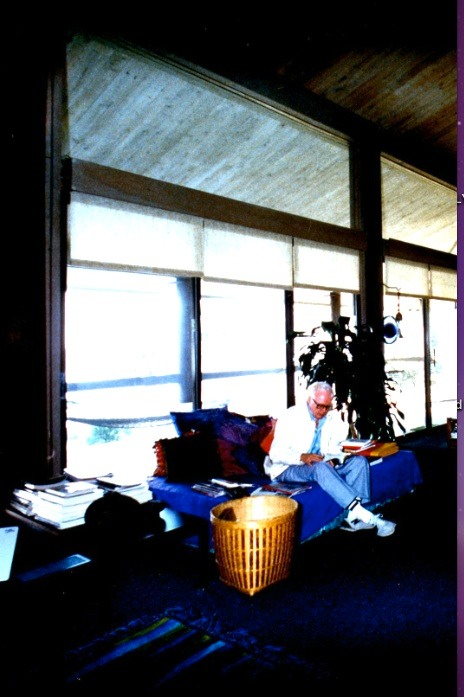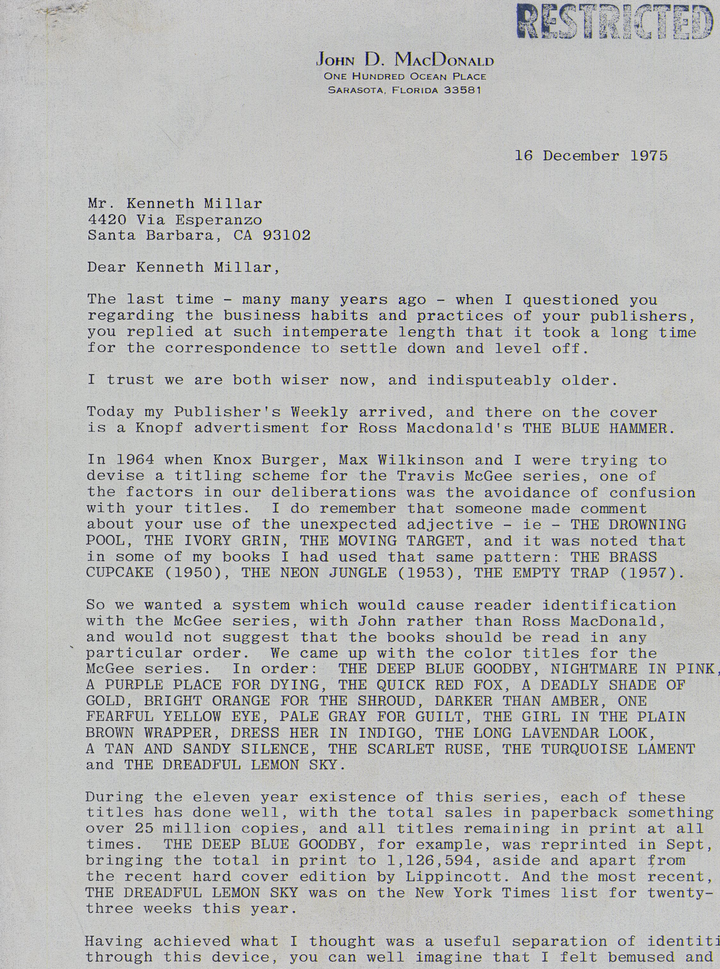 A PORTION OF THE SIESTA KEY HOME JDM USED AS HIS OFFICE--PROBABLY ON THE LEFT SIDE FACING THE GULF
Views of the rear of the property.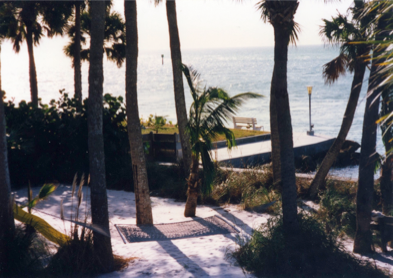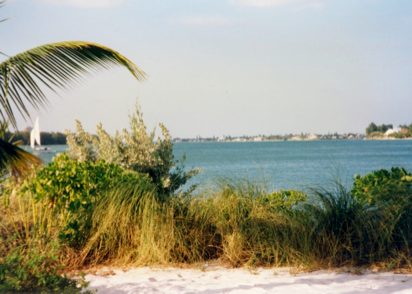 Taken during the 6th John D. MacDonald Conference visit to the home where a barbecue was held, and the architect of the  home gave a brief talk.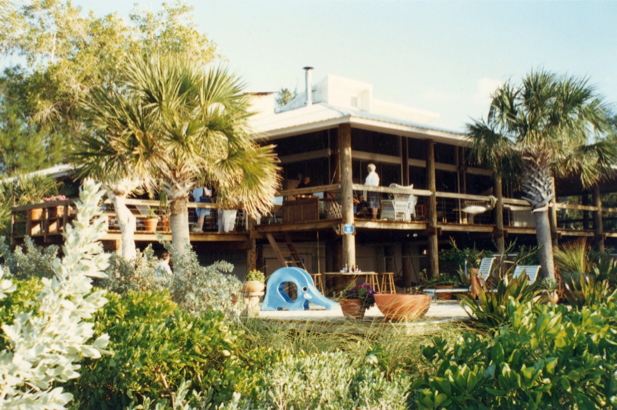 PISECO LAKE
JDM and Dorothy stayed at  this camp,which they built in 1949. It was located  in Piseco Lake, north of Utica, in the Adirondacks.  They spent many summers there for the rest of their lives.
 There are hundreds of pictures of the camp area in the Collection taken by both JDM and Dorothy while in residence.    
(Please note:  these are duplicates from the Collection, and should not be copied and distributed.)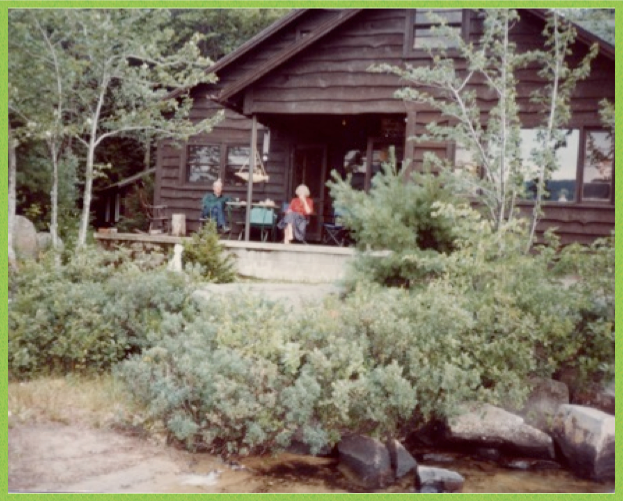 Shown in the picture above are Dorothy and her brother, Sam Prentiss. The cabin has been sold and is being renovated.  Originally there were 12 small rooms in 1200 square feet of space, including a small room in the attic.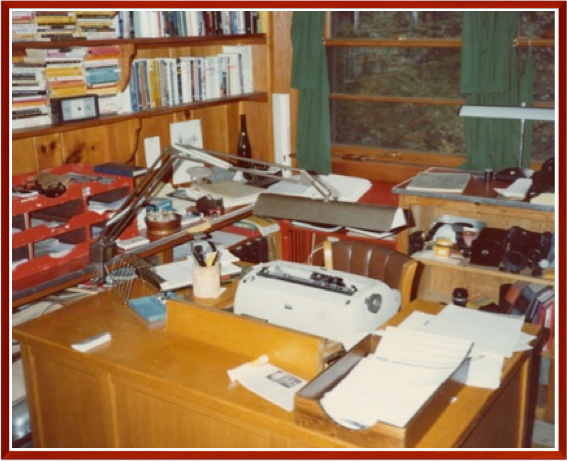 One of those rooms on the main floor was JDM's study, see  below the cabin picture.
 The desk and typewriter (one of many he used) may be donated to the Collection by Brad Dake, the new owner. Note that the desk faces inward, not out, which JDM preferred so that he would not be distracted from writing.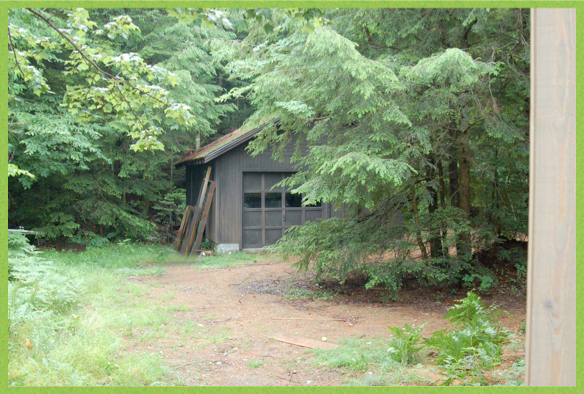 Above: the garage
To get to the cabin one must turn off the main road onto a fairly twisty dirt road through the woods.  You have a feeling that visitors--other than family-- were not encouraged. The garage actually faces the front of the cabin.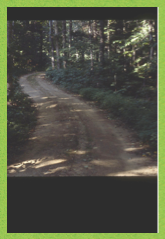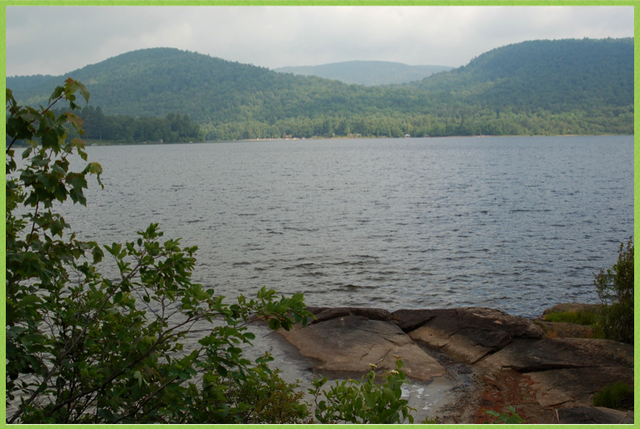 \
The rocks are very close to the back of the cabin.  See Piseco Lake 2 for more pictures.
Below are some black and white photos taken in 1949 of the cabin construction.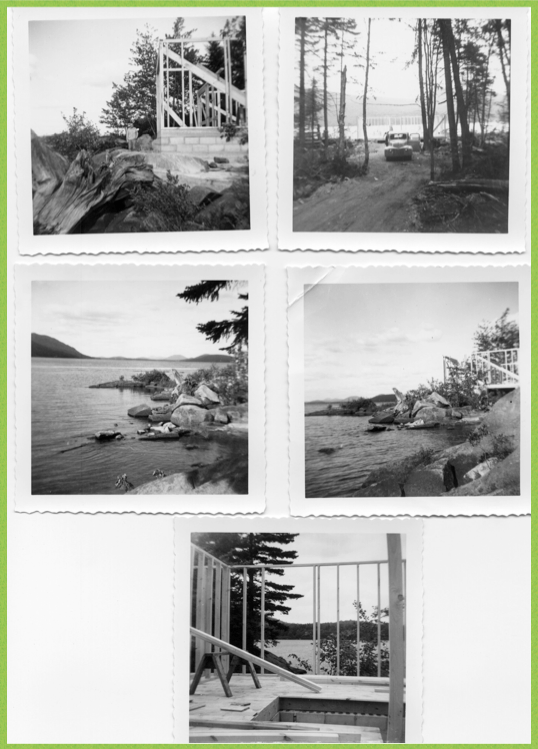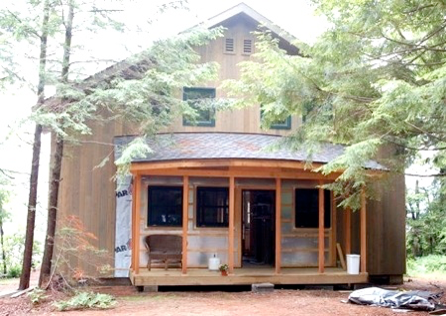 The front of the cabin has been changed considerably.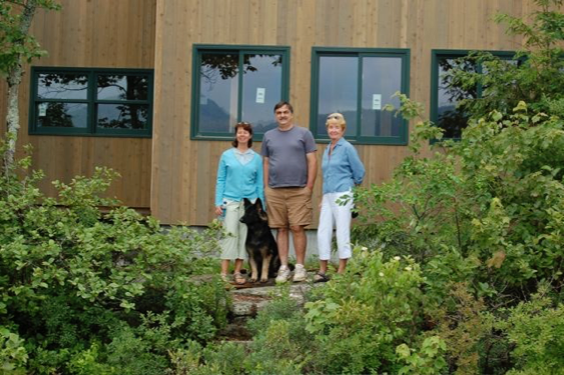 The rear of the cabin faces Piseco Lake, and is only about 50 feet from the water.
New owners Darla Oathout and Brad Dake,
Also pictured: Nola Branche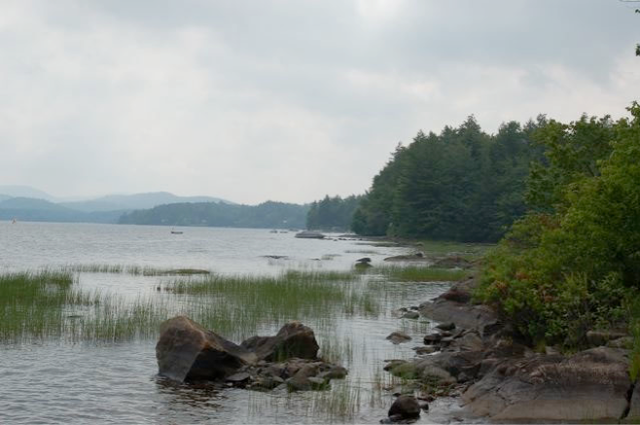 A view of the lake from the back of the cabin.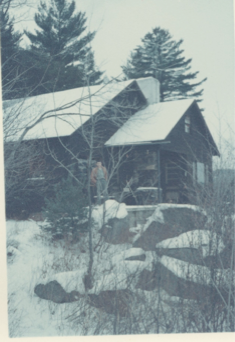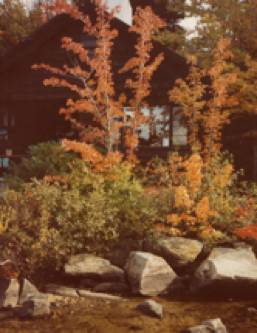 Winter and Fall views of the cabin.
JDM and Dorothy took many pictures of these two Piseco scenes over the years.
(see also JDM as photographer)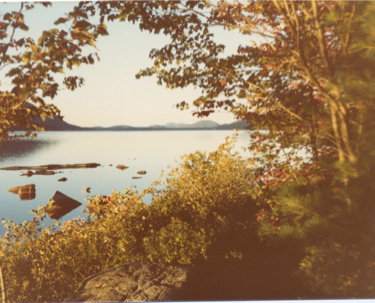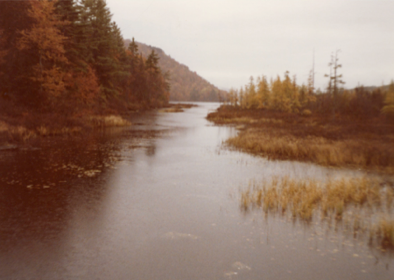 In  Cl