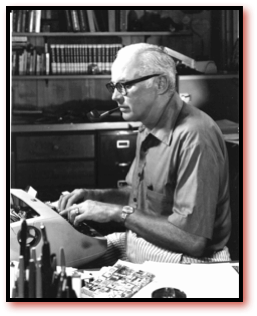 The only photo I have ever found showing JDM at work in his work area in the Siesta Key house.  Not as clear as I would  like, unfortunately.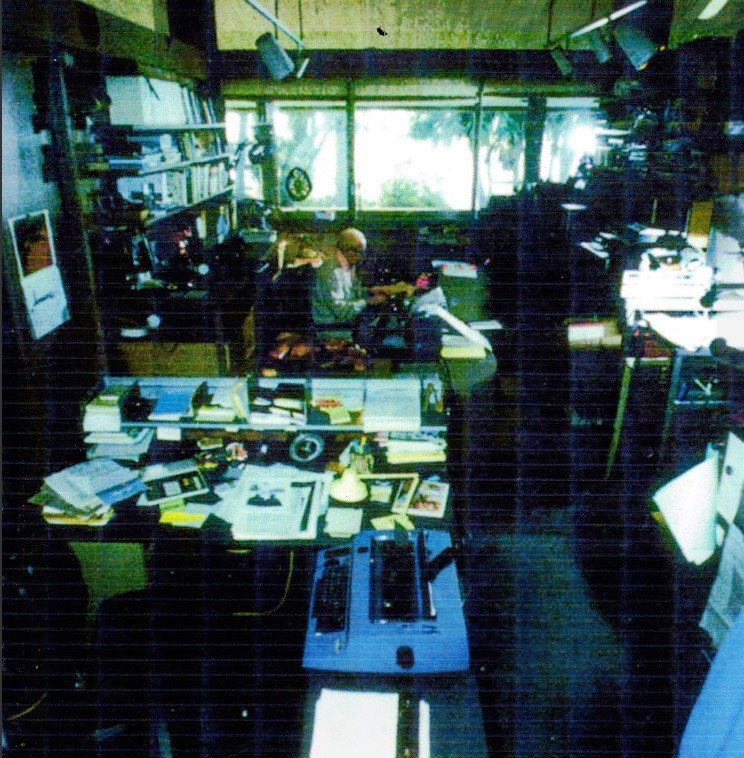 ANNOUNCING:  
Dear Dordo: The World War II Letters of Dorothy and John D. MacDonald

Authors: Compiled and Edited by Florence M. Turcotte, Cal Branche, and Nola Branche
Dear Dordo is officially published at https://ufl.pb.unizin.org/deardordo/!


Book Description:
 John D. MacDonald was a prolific writer, authoring 78 books that have sold more than 70 million copies. Many of his novels published in the 1950's were set in Florida, as were several of his 450 short stories and the well-known Travis McGee series. Dear Dordo: The World War II Letters of Dorothy and John D. MacDonald presents a collection of 175 letters that were exchanged between John and his wife Dorothy (known as "Dordo") between May 1943 and June 1945. These letters provide a fascinating and honest account of life during World War II from a husband in the U.S. Army and a wife on the home front.Through John and Dorothy's correspondence, readers will learn about John's experiences in the U.S. Army (based first in India, and then, as a commander of an OSS unit, in Ceylon) and Dorothy's experiences as a supportive spouse back home in Utica, New York.  The letters animate how John and Dorothy dealt with the personal concerns and themes of their lives, separately and as a married couple, and demonstrate the difficulties of wartime separation of husbands and wives. The letters also tell the story of a wife's efforts on behalf of her husband abroad that launched a heralded literary career that established a new twist on the hard-boiled detective novel genre of American writing.The letters compiled in Dear Dordo are framed by a preface, an introduction, editorial notes, and a glossary. These materials provide unique and essential context to the content of the letters. Fans and scholars alike will find much to consider and analyze in this collection.

License:All Rights Reserved

 AND ANNOUNCING :  JDM PODCASTS:  TO LISTEN GO TO:
John D. MacDonald podcasts
I now have114 podcasts  uploaded,, titled: " Area of Suspicion. "
On this website you can go to the Audio -Video link on the top Menuand scroll down to Audio Files  to hear them.
PODCAST TITLES:
1)  JDM intro
2)  background
3)  Quotations
4)   More Quotations
5)  Travis' drink and history of Plymouth Gin
6)  Quotes and on Meeting Travis
7)  Letters to editors by JDM
8)  Letters to JDM and the Collection
9)  MEMORIAL SERVICE FOR JOHN AND DOROTHY MACDONALD IN MAY, 1989
10) JDM interview aboard the Royal Viking Star  in April, 1983
11) JDM ANSWERING ED HIRSHBERG'S QUESTIONS IN PREPARING FOR A BOOK ON JDM BY HIRSHBERG ( 1978)
12) PART TWO OF JDM ANSWERING ED HIRSHBERG'S QUESTIONS
13)  Piseco Lake and Ceylon
14)  CH. 10 IN TAMPA INTERVIEW BY JOHN EASTMAN OF JDM 1978
15) JDM opinions
16)  letters JDM wrote
17)  Short story:  Manhattan Horse Opera read by cal
18:  What JDM likes in a book
19:  His first year of writing:  1946
20.  on beginning the Travis McGee series
21.  interview with JDM
22.  Songs inspired by Travis McGee
 23)  100TH BIRTHDAY CELEBRATION AND BAHIA MAR PLAQUE
24:  A potpourri of JDM-related stuff
   25)  CRAIG PITTMAN AND LEE CHILD ON JDM
 26) 1996 CONFERENCE AND JOHN PETER SCHMIDT ON JDM AS A MAN
 27)  ARTICLES  FROM THE SARASOTA HERALD FOR THE 100TH BIRTHDAY OF JDM.  AUTHORS WROTE UNDER THE TITLE: :JOHN D AND ME."  INCLUDED ARE LEE CHILD, STEPHEN KING, TIM DORSEY, AND DENNIS LEHANE
28)  TWO FLORIDA AUTHORS CLOSE TO JDM IN THEIR NOVELS
29) Nov. 1990 Confedrence;;; Dorothy;  Collette Bancroft: book editor
30)   Short Story: "Fatal Accident:
31)  Travis and Women
32)  JDM on Edgar Allen Poe
33) letter from  JDM to  Mickey Spillane, and from Elmore Leonard and JDM's father to JDM
34) What JDM  wanted in his new home on Siesta Key, Sarasota, Fl.
35) Harvard Business school article on JDM
36)  JDM Environmental Award and article on JDM and Ecology
37) INTERVIEW WITH CHRIS LUELOFF, ORIGINATOR OF THE FACEBOOK BUSTED FLUSH GROUP
38) BITS AND PIECES:  card thanking JDM;  JImmy Buffet Letter;  English assignment at Wharton; JDM grades at Utica High and at Harvard Business School; and three articles from the Utica Observer Dispatch in 1946, 48, and 49
39)  interview with Andrew MacDonald, grandson of JDM
40)  LETTERS TO JDM:  ROSMOND, CHANDLER, BRADBURY; AND LETTER TO ROCHESTER ARMY DEPT. FROM JDM'S FATHER, EUGENE--LIKELY RESPONSIBLE FOR JDM ENTERING THE ARMY
41) LETTERS TO AND FROM JDM;  JDM AWARD FOR WRITING TO STUART KAMINSKI
42)  THE VERY FIRST SHORT STORY BY JDM:  "INTERLUDE IN INDIA"
43) JDM's Poetry Part 1
44)  JDM's Poetry Part 2
45)  Reading For Survival
46)  JDM ON BUREACRACY AND GOVERNMENT, FRIENDSHIP, GUILT, HEAT, 
47) JDM ON HOTELS AND MOTELS
48)  JDM ON LOVE, LONELINESS, AND MARRIAGE
49) JDM  ON MARRIAGE, MEDICAL MATTERS, AND MEN
50)  INTERVIEW WITH STEVE SCOTT:  " TRAP OF SOLID GOLD: BLOG.
51)  Karen Turville and JDM Island and Hall of Fame
52) LETTERS TO AND FROM JDM
53)  LETTERS TO AND FROM JDM
54) MORE LETTERS TO AND FROM JDM
55)  On JDM from Walter Shine's unpublished Wizard of Words in His Own Words.
56)  On JDM from Walter Shine's unpublished Wizard of Words in His Own Words.
57) JDM ON  CORPORATE MAN,  CONFORMITY ,AND EDUCATION  AND INSTINCT
58)  JDM ON BOREDOM AND ON AIR TRAVEL
59)  JDM ON THE ENVIRONMENT
60)   JDM ON ENVIRONMENT; EDUCATION AND INSTINCT; AND EVIL
61)  JDM  on Evil; Fear and Insecurity; and Driving
62)  Political beliefs;  hobbies
63)  more JDM hobbies
64)  TIM DORSEY INTERVIEW:  WINNER OF 2016 JOHN D. MACDONALD AWARD FOR EXCELLENCE IN FLORIDA FICTION
65)  Interview with George Hatcher, a very special JDM fan!
66)  Craig Pittman on JDM and the Environment 
67)  James Hall interview on JDM
68)  Les Standiford interview on JDM
69)  Paul Levine interview ( 2nd winner of JOHN D. MACDONALD AWARD FOR EXCELLENCE IN FLORIDA FICTION
70)  James Swain interview: listen to how his latest book is connected to Bahia Mar.
71)  Interview with Mike Friery, fan and historian of JDM
72)  The Development of Mystery/Crime/Detective fiction.
73)  More on the Development of Mystery/Crime/Detective fiction.
74)  JDM on Poe;  Detection Club Oath; Rules for Writing Mysteries; On Reading Detective Fiction
75) JDM and Chandler; Part one:  The Simple Art of Murder.
76)  Part two of The Simple Art of Murder
77)  Great writers to read
78)  JDM ON CRUISE SHIPS:  "AFLOAT BUT NOT AT SEA"
79)  Winning Essay by JDM and Tools of the Trade
80)  JDM and Business and Legal Affairs
81)  JDM OPINIONS
82)   JDM'S MEDICAL HISTORY
83)  FRIENDS OF JDM
84)  INTERVIEW WITH ACE ATKINS
85)  SPEECHES BY JDM
86)  LETTERS TO EDITOR BY JDM PART ONE
87) LETTERS PART TWO
88)  LETTERS PART THREE
89)   Letters Part 4
90) Letters final
91)  Interview with Victor Nunez, director of the film he made of A Flash of Green.
92)  WALTER SHINE: PART ONE
93)  WALTER SHINE: PART TWO
94)  Bouchercon Panel i 1996 on John D. MacDonald
95)  JDM SPEECH AT THE 100TH ANNIVERSARY OF THE AMERICAN LIBRARY ASSN. ON JULY 19, 1976
96)  JDM SPEECH AT THE FESTIVAL OF THE WRITTEN WORD
97)  VERY GOOD INTERVIEW IN 1975  AT PISCO LAKE BY DAVE HUGHES…THE MOST RELAXED JDM I HAVE EVER HEARD..
98)  LAST TWO OF THE DAVE HUGHES INTERVIEW WITH JDM AT PISECO LAKE IN 1975
99)  Interview with JDM number 1 fan:  Karen Turville...who was most responsible for official Florida recognition of the author among other accomplishments.
101 )  Interview with Florida author, Bob Morris, life-long fan of JDM.
102): Canadian radio program on JDM, extremely well done! 1978
103: PATTI JUST,  FROM SOUTH CAROLINA PBS    INTERVIEWS JDM
104: JDM CASSETTE TAPE TO ED HIRSHBERG FOR USE IN HIS DETECTIVE WRITING CLASS
105: JDM LECTURE ON WRITING FOR WRITER'S DIGEST
 106:  FLORIDA HOUSE OF REPRESENTATIVES AND SENATE RESOLUTION FOR "JOHN D. MACDONALD DAY"
107:  CARL HIAASEN AND JDM ENVIRONMENTAL AWARD
108-112:  Several podcasts on responses to Cal's questions to contemporary crime/det ective/mystery authors.  The questions included themes to write about; how is the world of mystery/crime/detective fiction related to the real world; and what is the place of the genre in the world of literature?
113:  First entry of Diary JDM started in Jan. 1967
114:  Second and final Diary entry
115:  Interview with Julian Smith
116:  Interview with Karen Vander Ven on the  psychological aspects of  Travis and his childhood.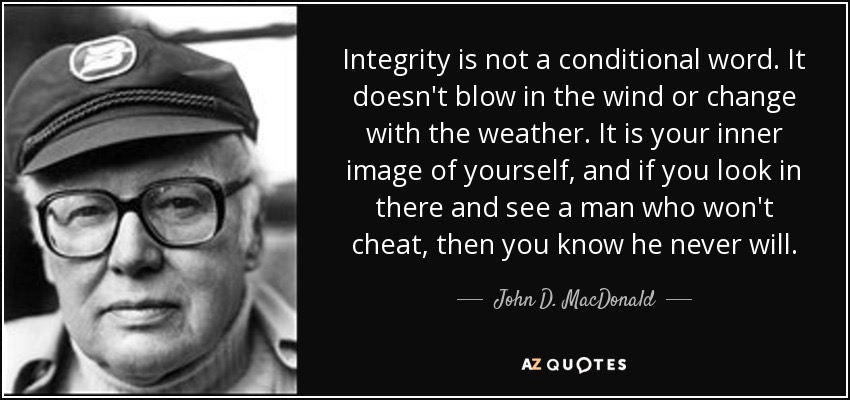 (NOTE:   This is the latest version of a web site I started in 1996.  I hope it will work for you.)

CONTACT CAL at :   cbranche@earthlink.net
**********************************************
see 100th Birthday Celebration and Events pages for photos and events: the entire 7 month period on JDM was sponsored by:
                         BOUCHERCON 2018
Here is the audio clip of the Opening Ceremony where Andrew MacDonald and I spoke. 
(The Bouchercon 2018  panels were recorded for audio by a vendor, who, when I asked if the was recording the Opening Ceremony replied that "probably not, it's only "rah-rah stuff." But I said that we were doing a special bit on John D. MacDonald so could he please record it. He said he would and it worked for the most part.  Andrew's section ends just before he finished his talk. )
  Craig Pittman sent this to us after the panel.
Here is the audio from the panel on JDM:
****************************************************
You owe it to yourself to look at Steve Scott's labor of love: 
 http://thetrapofsolidgold.blogspot.com/
His astounding research into JDM and the short stories is worth an Oscar!!
*************************************************
*************************************
And take a look at a new Tradition under JDM Stuff (Obituaries and Gravestones)
***********************************************
—See  Reading For Survival in the Other Books section.  You can now get a  copy by emailing the contact listed at the end of the article. 

--And look at "For Sale"—some good items there.
--Also, this site on book covers is fascinating:  
https://johndmacdonaldcovers.wordpress.com/
—The  Facebook group:  
The Busted Flush - A Group For Fans of Travis McGee  —now has more than 1100 fans
**********************************************************************
               A brief bio of  John D. MacDonald
This website is devoted to John D. MacDonald, author of 78 books, including the famous Travis McGee series.  JDM is well-known in mystery fiction writing, especially for his books with Florida as a setting.  Most of the current Florida mystery writers acknowledge JDM's impact on their writing.
Born In Sharon, Pa., MacDonald , as a young boy, wished he had been born a writer, believing that they were a separate "race," marked from birth.  But two years of  writing 10 to 12 hours a day, 6 to 7 days a week, in 1945 and 1946, convinced him otherwise.
By the time he died he had published 78 books, with more than 75 million copies in print. 
  He married Dorothy Prentiss in a secret ceremony in 1937 in Pennsylvania  and a public wedding was held in Poland, N.Y.  in 1938. 
He graduated from Syracuse University with a degree in business in 1939 and then went to Harvard to work on an MBA. His son, Maynard, was born that year.
He worked at several menial jobs after earning his MBA in 1939. 
 MacDonald then served in the Army beginning in 1940 at the Rochester N.Y Ordnance station.  He was sent to  India in late 1943, and was accepted in the OSS in late 1944 . He  was sent  to Ceylon  where he was the Commander of Detachment 404.  He was not a spy, however, but served in the Ordnance areas.
He wrote nearly 450 short stories, and published his first novel ,The Brass Cupcake, in 1950. He continues to earn praise from millions of readers and lasting respect from fellow authors. He was given the Grandmaster Award in 1972 by the Mystery Writers of America; the Ben Franklin Award (1955);and was Guest of Honor at Bouchercon in 1983. Numerous other awards and Honorary Doctorates were given to him as well.
Perhaps the greatest testament to his writing, now decades  after his death in 1986, is that his books continue to sell, movies continue to be planned, and the internet continues to serve as a place to discuss his work and related matters.  See the Facebook Busted Flush group.
A WORD ABOUT THIS SITE'S ORGANIZATION: 
Please note that in addition to a bibliography of John D. MacDonald books  there are several pages wherein book covers and short descriptions are presented  about the Travis McGee series and the non-McGee novels of the 50's and 60's. There are additional  pages of items of interest to fans.
                            **********************************
Here are some writer's comments on JDM and Travis McGee:    
  In the N.Y.  Times Book Review for Feb. 2, 2012 critic Olen  Steinhauer was writing about a JDM contemporary, Elmore Leonard, but what he had to say about the best crime writers, that : " Our best crime writers are sometimes our most astute social novelists, concerned as much with our country's ills as they are with sensational homicides." can be applied very accurately to John D. MacDonald.
Most readers loved MacDonald's work because he told a rip-roaring yarn. I loved it because he was the first modern writer to nail Florida dead-center, to capture all its languid sleaze, racy sense of promise, and breath-grabbing beauty...For me and many natives (of Florida), some of McGee's finest moments were when he paused, mid-adventure, to inveigh against the runaway exploitation of this rare and dying paradise. If a cypress swamp got plowed to make way for another shopping mall, he took it personally: "This was instant Florida, tacky and stifling and full of ugly and spurious energies." Every McGee saga guarantees such splendidly mordant commentary. The customary targets are greedhead developers, crooked politicians, chamber-of-commerce flacks, and the cold-hearted scammers who flock like buzzards to the Sunshine State. For John D. MacDonald, these were not just useful fictional villains; they were villains of real life. When he passed away unexpectedly in 1986, millions of fans worldwide wondered what would become of Travis McGee. Not me. I wondered what would become of Florida without him...."
                                 Carl Hiaasen, from an intro to 
                                The Deep Blue Goodbye
JOHN D. MACDONALD  "....the great entertainer of our age, and a mesmerizing storyteller."
                                                                    --STEPHEN KING
"....a master storyteller, a masterful suspense writer."
                                                                --MARY HIGGINS CLARK
"....a dominant influence on writers crafting the continuing series character."
                                                                    --SUE GRAFTON
"....my favorite novelist of all time."
                                                                        --DEAN KOONTZ
"...the consummate pro, a master storyteller and witty observer."
--JONATHAN KELLERMAN
"...remains one of my idols."
                                                                       --DONALD WESTLAKE
THE TRAVIS McGEE SERIES
"...one of the great sagas in American fiction."
                                                                          --ROBERT B. PARKER
"...what a joy that these timeless and treasured novels are available again."
                                                                                --ED McBAIN
                ***************************************************
"To diggers a thousand years from now, the works of John D. MacDonald would be a treasure on the order of the tomb of Tutankhamen."
                                          - KURT VONNEGUT
The full article from which the above was taken:
 —